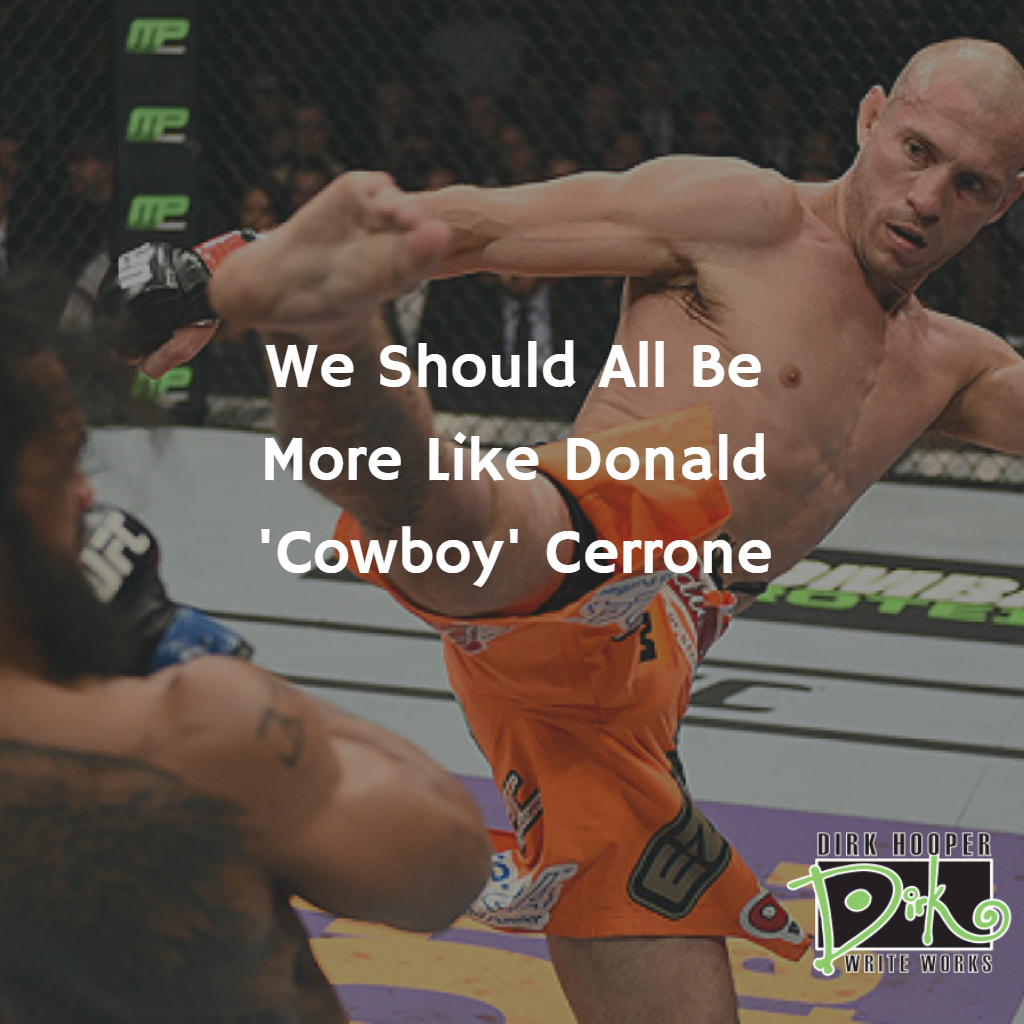 Recently, I watched a UFC fight with Donald "Cowboy" Cerrone. I always look forward to his matches because no matter what the outcome, he always has an entertaining fight.
He lost the fight with Jorge Masvidal, who is a rising star, but the loss just reinforces why I want to talk about Cerrone. He's not the best fighter. He's never won a belt in the UFC, although he's gotten close on a few occasions. He's not fancy, or a big talker, or some media phenomenon.
What Cerrone defines is something that is all too often forgotten and unacknowledged in this millennium. He's a hard worker, who puts in his time between matches. He's always ready to bang. He never backs down from a fight. And, he consistently leaves everything in the cage.
While he doesn't have a UFC belt, Donald Cerrone currently holds the record for most post-fight bonuses with 18. He's also famous for being the most-active fighter in the UFC by having at least four fights a year since 2013.
In 2015, he had a fight on January 3, then on January 18, he took another fight to fill-in for someone else. He won both of those fights.
If you follow the fight game, boxing or MMA, you know how rare this is. I stopped watching boxing (along with many other people) because the champions might only fight once every year or two, and only for huge paydays. It's ridiculous.
Here's how you can be more like Donald "Cowboy" Cerrone:
1. Be Prepared – Cerrone gets a lot of fights at the last minute because he stays in fighting shape all year long. If Dana White calls him up to offer him a fight he's always ready to go.
2. Be Fearless – He doesn't make a big deal about this, but he never backs down from a fight. That's cost him a few losses, but it's also led to an impressive resume.
3. Iron Sharpens Iron – Proverbs 27:17 says "As iron sharpens iron, so one person sharpens another." Donald Cerrone may lose some bouts but he learns from those losses and just keeps going.
4. Show Up – Donald Cerrone has won so many fight bonuses because he never gets in the octagon without giving everything he's got. If you take a job, or a project, or tell someone you're going to do something, be like Cowboy and put your heart into it.
The Answer to Safe Spaces
We are firmly in an age where some people need safe spaces, and instant gratification, and unearned awards to make it through the day. Donald "Cowboy" Cerrone is the Anti-Snowflake.
He's always ready, he's fearless, and he puts everything into his job, without expecting anything in return. And because of that he's achieved unparalleled respect and has been handsomely rewarded for his stellar work ethic.
No one ever questions the reputation, heart and resolve of Cerrone, and that's something that has to be earned over a long period of time.
That's why we should all be more like Cowboy.